WIFI Devices
Antennas For Next Generation Technology
Without a well-functioning antenna Wireless communication is not possible. The growth of 4th generation or LTE (long term evolution) technology presents new levels of opportunities as well as expectations of improved coverage and bandwidth, and has enriched the mobile broadband experience. 4GLTE-Antennas offers a wide range of antennas for 3G+, WiMAX and LTE, which provides consistent improvement in connection and transfer speeds, both in stationary and mobile environments.
4GLTE-Antennas offers a global range of 2G, 3G and 4G antennas which are compatible with an enormous variety of hardware from various manufacturers and networks. Our portfolio is developed to help users maintain a dependable data connection and fast transfer speeds wherever they are in the world and whatever the application.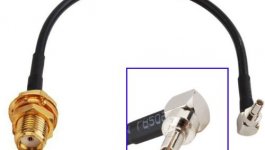 In this category you will find all kinds of supporting materials and supplies such as antenna accessories connectors, adapters, cables and more. These products make it possible to connect Antennas with Pepwave, Teltonika, Huawei, Option, or other wireless equipment.
More Info